by Tim Alatorre
At 5:23 this afternoon Emeritus Professor Donna Duerk celebrated the close of her final quarter teaching at Cal Poly by slicing up a cake to share with her Arch 252 class.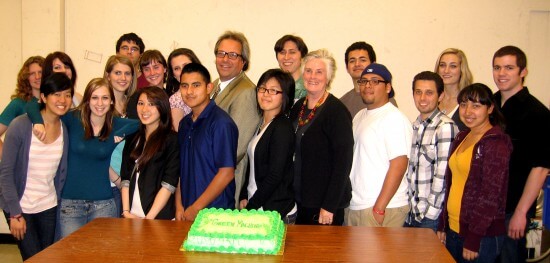 This quarter's theme, "The Green Machine" started with a design for a moon base and concluded with the design of a sustainable mixed use project in downtown San Luis Obispo. Emphasis was also put on structural design of the projects.
Donna started teaching at Cal Poly as a Professor of Architecture in 1981. Previous to that she was a teaching assistant at MIT and North Carolina State University. She holds a B. of Arts and a B. of Architecture from North Carolina State, and a M. of Arch from MIT.
Donna is a registered architect with the State of Texas and is a member of the Environmental Design Research Association (EDRA), AIAA (American Institute of Aeronautics & Astronautics), and Space Architecture Technical Committee (SATC).
She is the author of several books including "Architectural Programming: Information Management for Design," published 1993, and used in many universities today. She is also the author of "A curriculum for Aerospace Architecture: With Emphasis on Lunar Base and Habitat Studies," NASA/CR—2004—212820.
Read an interview she did for the architecture department last year.


---